Company Profile
Henan Jinfeng Poultry Equipment co,.LTD.is the pioneer and specialist in china poultry equipment manufacture.we are now the largest manufacture for the poultry cages and coupled automatic equipment including automatic feeding and drinking system,egg collection system,chicken manure removal system,chicken environment control system.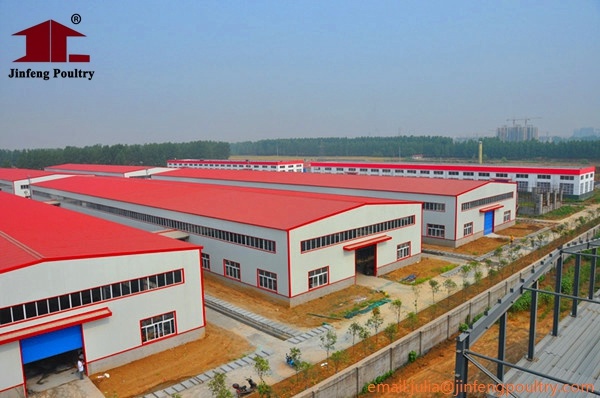 chicken farming equipment welded mesh chicken layer cage factory price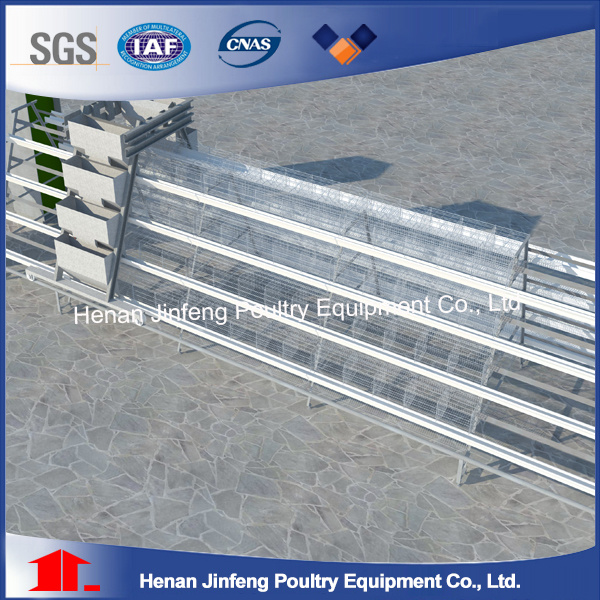 Introduction:
The A -type Layer System from Henan Jinfeng is Cold Galvanized or Hot Dipped Galvanized Equipment, we can control the standard and quality because Jinfeng has our own Wire Drawing Production Line to produce the cage wires, Automatic Cage Mesh Welding line, Cutting line, Bending line and Cold/Hot Dipped Galvanization line for Cages and Cage Frames.
The A -type Layer System was certified by ISO9001:2008, it has scientific design and efficient working solid structure, perfect installation service.
Advantages:
1, Saving more cost for Farmers because its lower cost than H Frame Cage System;
2.More Suitable to use in rainless district. Durable and solid structure for long lifetime;
3.Greater number of birds is reared per unit of area .
4.Easily to deliver and installation in clients farm and make maintenance;
5.It helps producing clean eggs because the Egg conveyor system can deliver all eggs from different houses to egg storage room just as the H frame System;
6. Easy control of parasitic disease like coccidiosis and worm infestation;
7.Prompt steps to control feed wastage because of the longer design feed trough edge.
8.Egg production of caged layer was reported to be more than those kept in deep litter system.
9.The overlap parts is bigger so the chicken house can get much better ventilation, it can be used both in open or close house according clients' needs.
Specifications:
Main Tech-Datas of A type Layer Chicken Cages(A Type)
Item No.
Materials
/
Q235 steel wire
Surface Treatment
/
Electricity Galvanization
Tiers
/
2/3/4/5 tiers (According to clients' requirement)
Dimensions/unit
mm
(L*W*H/unit)1950*350*380 / 2150*500*430
Installation Dimensions
mm
(L*W*H/unit)1990*2400*1900 / 2200*2500*2150
Cells/unit
pcs
(390mm/cell*5cells)
(430mm/cell*5cells)
Rearing Period
weeks
16 weeks_ 72 weeks
Floor space/bird
cm²
455/430
birds/cell
birds
3/5
Bottom wire mesh angle
/
9°
Distance of bottom wire
mm
≤ 25
Sets/Row
sets
1--55
(P
ictures/tables)
1.Cage Frame Materials: Q235A Steel
2.Feed Troughs: Made of PVC and different Dimension design according clients' need, or made by 1.0--1.20mm hot galvanized steel sheets with round edge for convenient cleaning ,solid and durable design.
3.Surface Treatment: Hot dipped Galvanization by Jinfeng Hot Galvanization Production Line
4.Cage Dimension/Cell:(390--490)*(350--500)*(380--430)mm, 5cells/Unit,
5.6(3tiers)/8(4tiers)units/sets. Installed Dimension/sets:2000*1200*410mm. Total Floor Area per cell:430--500 sq.cm; Total Birds/Cell:3--5 birds; 450 sq.cm average area for per bird.
Battery Cage Dimension: any dimension of Cages are available from clients
Battery Cage System tiers: 2--5tiers available.
The A -type Layer System was certified by ISO9001:2008, it has scientific design and efficient working solid structure, perfect installation service.
Service:
If customer have installation rquest,we will send one or two or more engineers for supervision of the installation, commissioning and training .But the buyer shall pay installation cost,round ticket fees,accomodation fees,insurance etc related charges.
Besides,we have quality assurance,if unartificial product prolem,please feel free to contact us,we will send u for free.
Contact:
Emily
Mobile: +8617538379981
Website: jinmu999.en.made-in-china.com
Address: North of Jinfeng Road,XipingCounty Industrial Park,Zhumadian City,Henan Province.